African black soap is an all-natural cleanser that has benefits both in and under the skin. It's also used for various hammam treatments at Farnatchi Spa.
This article will examine African black soap (its origins and composition) as well as its benefits for those receiving Marrakech spa treatments.
What is African Black Soap?
African black soap is a soap originating from Western Africa. It dates back to the pre-colonial Yoruba people. Women were responsible for processing and trading produce and goods. Through manufacturing and trading, Yoruba women introduced African black soap to surrounding countries, like Ghana.
Today, this soap is fast becoming a staple in Marrakech hammams and beauty stores around the world. The moisturizing and healing properties of this product are seeing it hailed as a miracle soap.
The plant matter is sun-dried and then burned until ash. Then water is added, along with fats and oils like shea butter and coconut oil. The mixture cooks for 24 hours and is cured until ready.
Its amazing properties have made bar and liquid black soap a staple of luxury spa treatments.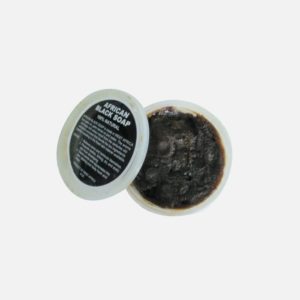 Use of African Black Soap In Spas
Spas in Marrakech are quick to take advantage of the benefits of black soap. It is a popular Moroccan skin scare practice to pair the soap with an exfoliating scrub. In doing so, the body releases toxins for cleaner and clearer skin.
As well, liquid black soap is often used in Marrakech hammams as part of an experience for travellers to relax and recharge. The soap is applied to the entire body where it sits for 15 minutes before rinsing.
This process cleans the skin and opens up your pores. It's a perfect way for travellers to clear off the grime after flying in. As well, this spa treatment has more benefits for your mind and body including:
Reduce stress & anxiety
Relive muscle tension
Clear skin
Improve sleep quality
Boost immune system
Benefits of African Black Soap
The benefits of black soap extend beyond their use in Marrakech hammams. In fact, many travellers take advantage of their protective properties throughout their stay.
The black soap is an excellent moisturizer for skin that isn't used to the desert air. As a beauty product, black soap can revamp and refresh your appearance by reducing fine lines, minimizing scars, and it acts as an anti-inflammatory. It can even take on issues like acne.
Black soap is also beneficial in some medical uses. African black soap is antibacterial and can be used to treat or prevent issues like toenail fungus and athletes foot.
Enjoy African Black Soap Spa Treatments in Marrakech
Spending time in a hammam can make all the difference in your enjoyment of your trip. Allow yourself to relax, unwind, and recharge. The refreshing cleansing of black soap spa treatments is the perfect beginning or end to your Marrakech vacation.
Book a treatment at Farnatchi Spa in Marrakech.