If you have been keeping up with health trends lately, you'll no doubt agree that essential oils are now very popular products for beauty and wellness. Lavender oil, peppermint oil, and bergamot oil are all gaining notoriety. Argon oil, however, has spent many years in the "shadows" so-to-speak but has since gained popularity.
Argan oil is a staple of Moroccan culture and continues to play a significant role in the wellness rituals of the Moroccan people. Its benefits are universal and health-conscious industries all over the world have taken notice.
With that said, it's worth discovering the healing power of this oil for yourself.
Argan Oil Benefits & Uses
In many ways, argan oil is a jack of all trades "medicine". It is rich in essential fatty acids and antioxidants, including:
Vitamin E
Polyphenols
Linoleic acid
Sterols
Argan oil can be ingested as well, which brings positive effects on insulin resistance, heart disease, and even seizure management.
Argan Oil is a Natural Hair Conditioner & Growth Promoter
Argan oil has the ability to make tough hair soft, silky, and shiny. It's a truly delightful product for individuals who deal with frizzy hair or split ends.
Argan oil also offers protection against dry hair and hair loss. This is largely due to argan oil's high vitamin E (Tocopherol) content, which is a natural antioxidant that neutralizes free radicals that can damage hair follicles.
With hair follicles intact, hair loss is reduced and volume is restored to a healthier level than before.
Argan Oil is a Great Hair Styling Product
Closely related to the point above, argan oil keeps hair soft, making it easier for people to style and shape their hair. Therefore, it can be used as a styling agent that can help achieve and maintain their desired hairstyle.
The nutrients in argan oil help to detangle hair, smoothe out frayed hair shafts and seal split ends. It also adds a shine to one's hair so as to make it appear more vibrant and lush.
Argan Oil is a Potent Skin Moisturizer
Dry skin is a daily dilemma for many. Being rich in vitamin E, argan oil serves as an effective moisturizer for dry skin. In fact, it is now a popular ingredient used in many skincare products for both men and women.
Scientific literature has also pointed out that argan oil can heal significantly more ailments than dry skin. The people of Morocco frequently use the oil to treat chronic skin conditions such as eczema and psoriasis.
Argan Oil as an Anti-Aging Treatment
Argan oil's compounds can give skin a more vibrant glow and can reduce the visibility of wrinkles. The result is more youthful-looking skin. Additionally, it can restore the skin's elasticity, making it feel more plump and soft.
It comes as no surprise then, that many modern anti-aging skin products incorporate the use of argan oil. The people of Morocco themselves have used it as a beauty product for centuries to combat the fine lines and wrinkles that aging brings.
Argan Oil as a Healing Agent
Argan oil is a great treatment for cuts and wounds, especially ones that may be a bit slow to heal. This is due to its abundance of antioxidants and vitamin E. Additionally, argan oil is rich in the fatty-acids such as linoleic acid, which promotes faster wound healing. The chemical properties of linoleic acid can also reduce skin inflammation.
In fact, it may even be a more powerful healing agent than olive oil. Just like argan oil, olive oil contains a significant amount of vitamin E (tocopherol) – 320 mg/kg to be exact. However, argan oil contains as much as 620 mg/kg, meaning it may deliver a more potent concentration of healing power in similar doses.
This makes argan oil very useful for athletic and outdoorsy individuals, or for children that are prone to sustaining injuries in sports or other activities.
Argan Oil is an Effective Stretch Mark Remover
For most individuals, stretch marks are unpleasant to look at, and for pregnant women, it often feels like a necessary evil. Fortunately, Argan oil improves skin elasticity, which reduces the appearance of stretch marks.
In fact, argan oil treatments may even prevent stretch marks from developing in those who are prone to acquiring them. Again, this is due to argan oil's ability to improve the elasticity of the skin thanks to its rich vitamin E content.
Therefore, pregnant women, fitness enthusiasts (who can get stretch marks as their weight changes) and others who are prone to stretch marks should consider adding argan oil to their skincare routine. It may reduce stretch marks just as effectively, if not more than the most popular anti-blemish creams.
Argan Oil as an Acne & Skin Treatment
Acne is a plague for young people, especially teenagers, but also younger adults in their 20s and 30s. Argan oil removes excess sebum – a buildup of which causes pimples – reducing the severity of acne.
In fact, a study of 20 individuals ages 17-50 was observed after taking argan oil to treat sebum buildup. A twice-daily facial application of a cream containing argan oil revealed a substantial reduction in sebum activity over the course of four weeks, leading to reduced greasiness of the skin.
Ultimately, the reduced greasiness and oiliness translate into the reduction of acne pimples and clearer skin. Therefore, argan oil, as well as argan-infused products, is a powerful add-on for one's skincare routine if acne is an issue.
Argan Oil in Riad Spa Treatments
Although argan oil has become a hot-button beauty product, it is also becoming a staple for many wellness procedures, namely, massage treatments.
At Farnatchi Spa, we use argan oil for our ILA massage treatments for the purpose of scrubbing the body to rejuvenate the skin. Argan oil can be used as a whole-body moisturizer and cleanser, which is another reason why we add it to the ILA regimen.
The Origins & Significance Of Argan Oil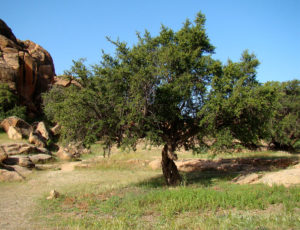 Argan oil (called "liquid gold" in Morocco) comes from argan nuts, a byproduct of the Argania Spinosa which is indigenous to Morocco. The nut is light golden brown and is known to have an intense flavour.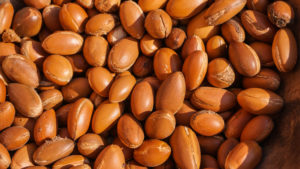 Much of the oil itself is produced by cooperatives of women who undergo the arduous process of extracting it. The extraction and processing of argan oil provide these women with a stable income.
The selling of argan oil can be traced back to the early 1500s when efforts were made to sell it to European markets. It never took off. However, opinions and perceptions of the oil have changed over the last 500 years.
In recent years, scientific research uncovered the vitamin-rich profile of argan oil. Additionally, the Moroccan government's initiatives propelled the crop onto the world scene, attracting attention specifically from the cosmetics industry. Now, with its many uses, it has become one of the more prized oils for beauty and wellness.
Argan Oil: Liquid Gold
Argan oil is referred to as liquid gold for a reason.
It is a powerful and natural treatment that comes exclusively and proudly from Morocco. It has its benefits when ingested, but argan oil is rapidly becoming renowned for its revitalizing power for the hair and face.
You can use it more as a cosmetic product or you can feel its therapeutic effects in combination with the healing hands of an ILA massage practitioner.
No matter the method or the purpose, you owe it to yourself to experience the healing power of argan oil. It may be the best treatment for your skin and hair yet!